The Blasterball series is a series of video games for PC developed and published by WildTangent, starting with Blasterball Wild in 2001. As of 2015, over a series of five games have been developed by WildTangent.
Gameplay
The gameplay is pretty much an Arkanoid clone, players have to complete each stage by destroying all bricks. Players can speed up the process by collecting powerups. Meanwhile, there are enemies that fly around the stage and disrupt travel of the ball as if it was a normal brick.
Games
Contests
The game for a certain amount of time had contest you would enter for prizes. This stopped when the contests page was removed from the WildTangent site in August 19, 2010. In Blasterball, you would enter these contests by playing the game in Contest mode, which is currently unacceptable due to no new contests being made for the game currently.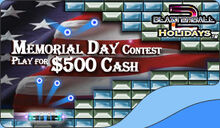 Blasterball 2 Holidays Contest #1 was held from X to Y and the grand prize winner won $250 in cash, with the second place, and third place (known as 1st and 2nd runner up) winning $125 in cash.
The Blasterball 2 Holidays "Memorial Day Contest" was a contest where contestants would enter for a $500 grand prize.
The Blasterball 2 Remix Contest was held sometime in 2006, and had a grand prize of $500.
Trivia
References
Community content is available under
CC-BY-SA
unless otherwise noted.